SPI NVG-40 NGEN2-G1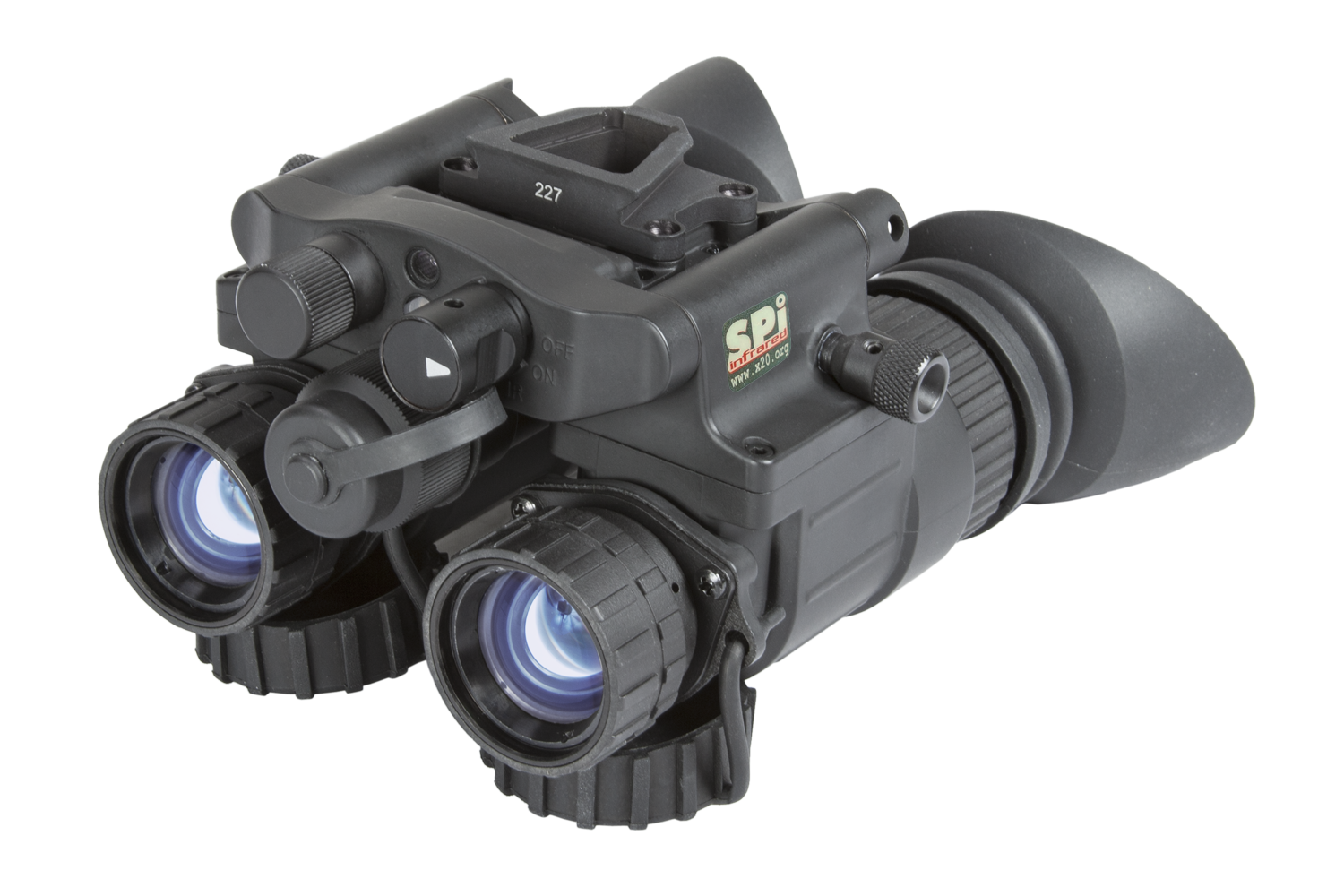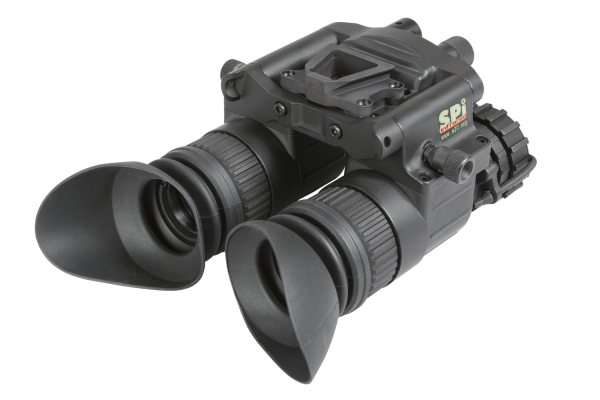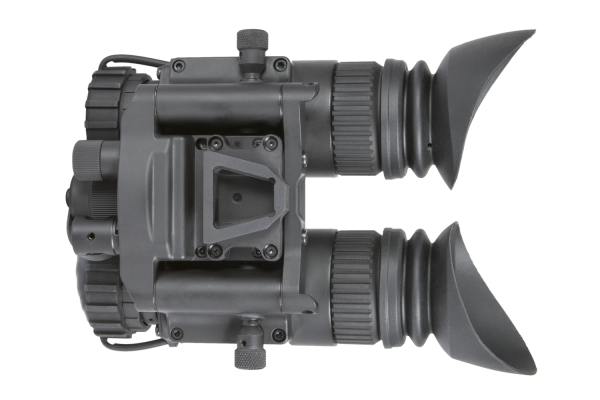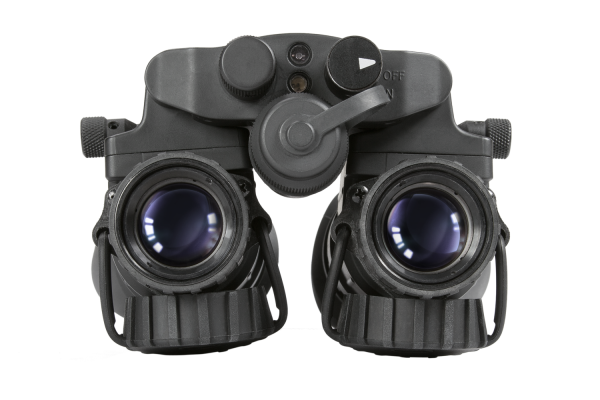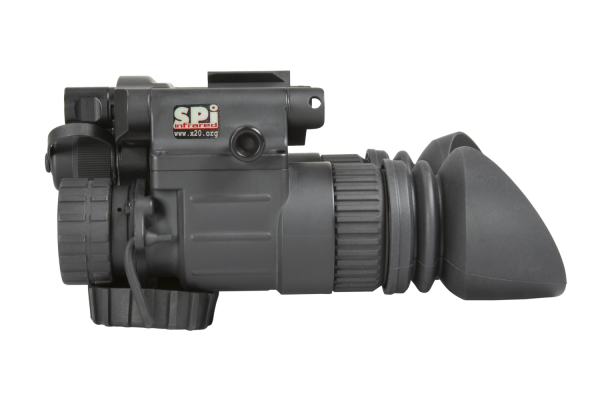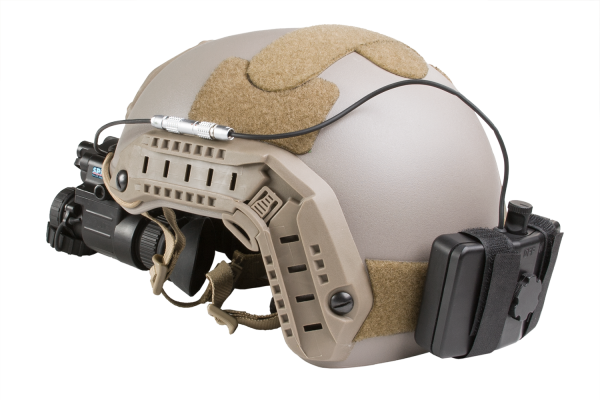 NIGHT VISION GOGGLES | PART #NGEN2-G1
One Lithium Battery CR123A
Lens Tissue
Instruction Manual
Battery adapter CR123A 3V / AA 1.5V
Soft Carrying Case
Description and Features
The SPI NVG-40 is a dual-channel night vision system. With a 40° field of view, it provides a large visual field without needing to move the binoculars. The NVG-40 uses advanced multi-coated optics and is built to last with a compact composite housing. Operating from a single AA alkaline battery or CR123A battery, the NVG can run up to 20 hours. Also equipped with an integral infrared illuminator for reading in the dark.
Redundant dual-tube design
True stereoscopic vision
Lightweight & compact
Head or helmet mountable for hands-free operation
Bright light cut-off
Ergonomic, simple, easy to operate controls
Built-in Infrared illuminator and flood lens
Utilizes single CR123A lithium or AA battery
Specifications for Gen 2+ "Level 1"
Image Intensifier Tube
Night Vision Image Intensifier Overview
The image intensifier tube is a critical component in long-range night vision goggles, playing a pivotal role in enhancing visibility and extending the effective range of these devices. Its importance lies in its ability to amplify ambient light, such as moonlight or starlight, and convert it into a visible image, enabling users to see in low-light or near-total darkness conditions. Here are some key reasons why the image intensifier tube is crucial for long-range night vision goggles: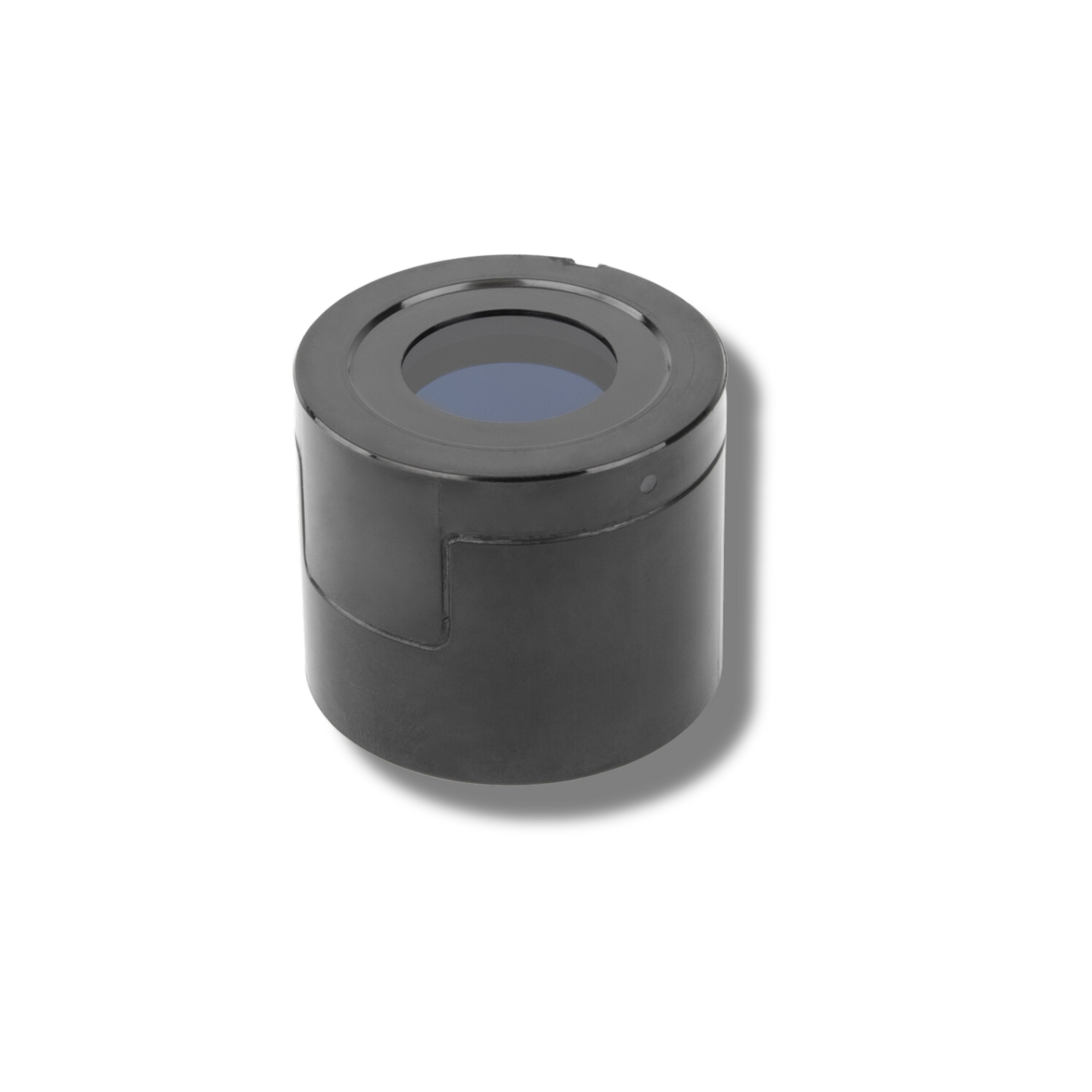 Extended Range: The image intensifier tube allows night vision goggles to operate effectively over long distances. By amplifying the available light, it enhances the visibility of objects and targets that would otherwise be indistinguishable to the naked eye, enabling users to see farther and identify potential threats or objects of interest.

Improved Image Quality: The intensifier tube significantly improves image clarity and resolution. It reduces distortion and noise in the image, providing a more detailed and accurate view of the surroundings. This feature is especially important in critical situations where clear vision is essential for making informed decisions. 

Versatility: Long-range night vision goggles with image intensifier tubes are versatile tools suitable for a wide range of applications. Whether it's military operations, law enforcement surveillance, wildlife observation, or outdoor activities like hunting or camping, these goggles offer unmatched visibility during the darkest hours.

Enhanced Safety: In situations where traditional light sources like flashlights are not viable due to tactical reasons or environmental conditions, night vision goggles with image intensifier tubes provide a safe and effective way to navigate and carry out tasks without revealing the user's position to potential threats.

Real-time Use: Image intensifier tubes offer real-time imaging, meaning the user gets immediate feedback without any lag when compared to digital night vision. This capability is crucial in dynamic environments, allowing users to respond quickly to changing situations.

Training and Familiarity: The use of image intensifier tubes in long-range night vision goggles is widespread in military and law enforcement settings. This consistency ensures that personnel can easily transition between different night vision devices and maintain their proficiency with the technology.
Specifications Of Our NVG-40 NGEN2-G1 Night Vision Goggles
Affordable Night Vision Goggles
This exceptional piece of technology boasts a resolution of 55-72 lp/mm, an impressive standard for affordable night vision goggles. This high-resolution capability means that the images you view will be crystal clear, with every detail sharply in focus. 
Furthermore, the "Level 1" specification signifies that our Gen 2 IIT NL1 is the highest resolution and cleanest product we offer. This results in practically no visible spots in Zone 1, which is the central viewing area and is of utmost importance in providing a clear image.
Our affordable night vision goggles feature a 1x magnification, allowing for real-time, accurate perception of your surroundings without distortion. The 27 mm, F/1.3 Lens System paired with a wide 40° field of view (FOV) grants you an expansive look at your surroundings, enhancing your overall viewing experience.
The goggles are equipped with a broad focus range, from a close-up 0.25m to infinity. This wide range ensures that whether you're examining something up close or scouting something in the distance, you'll get a clear and precise view with these affordable night vision goggles.
Comfort hasn't been compromised, either. These affordable night vision goggles come with a generous 25mm eye relief and a diopter adjustment of -6 to +2 dpt, catering to various individual vision requirements and ensuring long-lasting comfort.
Another unique feature includes LED indicators that alert users about low battery, infrared (IR) activation, and excessive light conditions. With two power levels of infrared illuminator, manual gain control, bright light cut-off, and an automatic shut-off system, these affordable night vision goggles offer the perfect balance between performance and user-friendly interface.
These goggles use a single CR123A (3V) or AA (1.5 V) battery, with a remarkable operating life of up to 20 hours at 20°C. Additionally, an optional battery pack can extend this to 80 hours. This makes our affordable night vision goggles a reliable tool for extended outdoor adventures.
Durability is guaranteed. The goggles are designed to withstand harsh conditions, with an operating temperature range from -40°C to +50°C and storage temperature range from -50°C to +70°C. Weighing only 645 g and with overall dimensions of 115 × 118 × 74 mm, these compact and affordable night vision goggles are perfect for on-the-go.
Every purchase includes the night vision goggles, goggle kit, soft carrying case, lens cloth, battery adapter, and a user manual to ensure you make the most of your new device. Choose our affordable night vision goggles for unmatched quality and value!