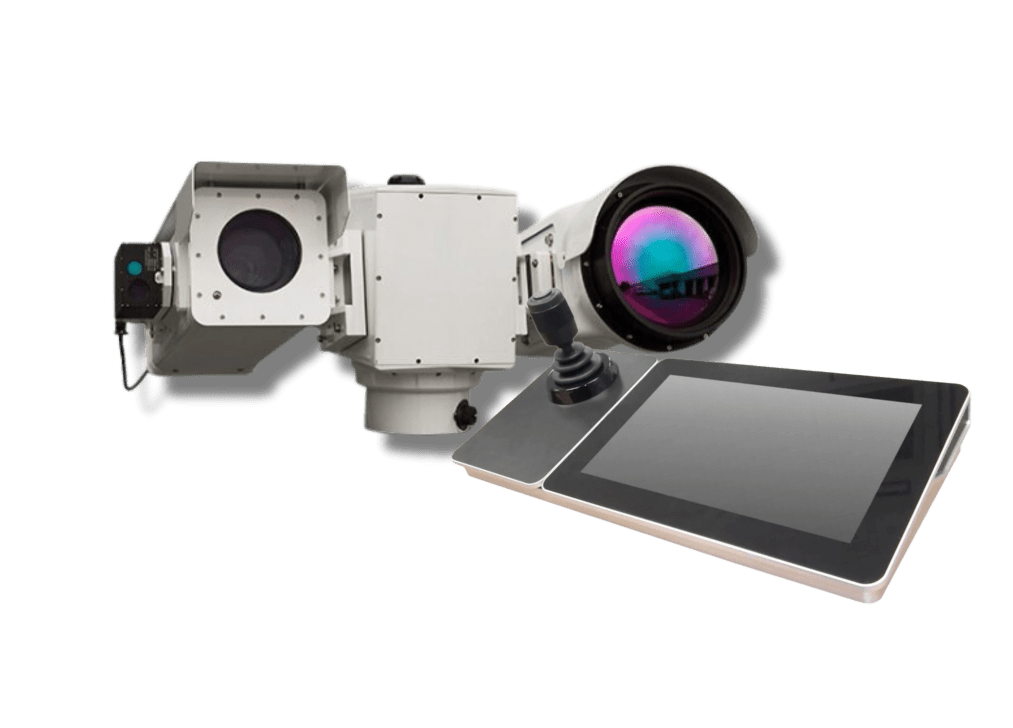 FLIR EO/IR for UAV, UAS, and drones.
M9 4K Cooled/Uncooled MWIR PTZ Ultra Rugged Military Long Range Surveillance Camera W/ Pan Tilt Zoom (PTZ) Sensor
---
The M9 Is the Pinnacle of Ultra Heavy Duty, Image Stabilized Extreme Long Range MWIR Ultra Rugged Thermal PTZ FLIR EOIR Camera Systems. The system has incredible detection ranges up to 60 Kilometers and over 40,000 hours of maintenance free service.
Demonstration Video for the M9 Military Long Range Surveillance Camera
Example of our M9 Long Range PTZ FLIR camera being used in an aviation surveillance setting.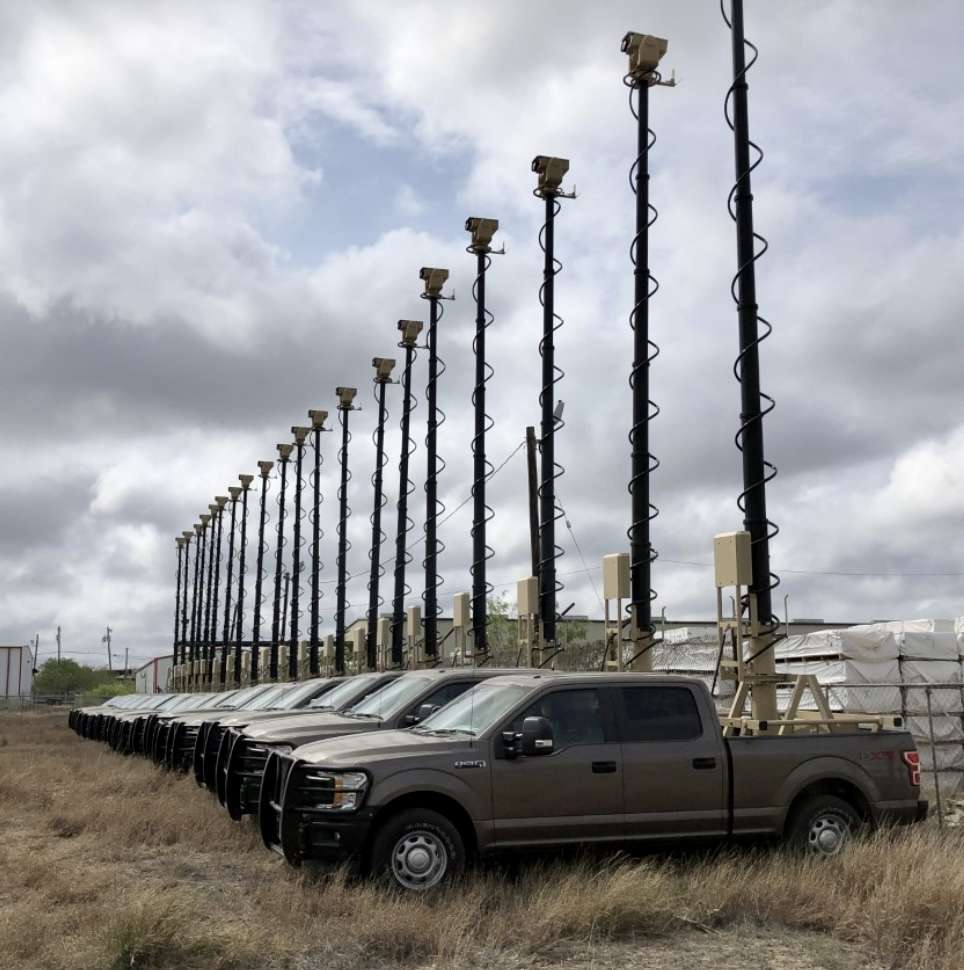 Zenith Rugged Folding Tower
The Zenith is a rugged, all weather military grade tower. It is stowed at a height of 48 inches (1.2 m) and rises to a height of 33 feet in approximately two minutes. With the push of a button, the Zenith self-assembles, creating a three-sided, stable, and strong structure.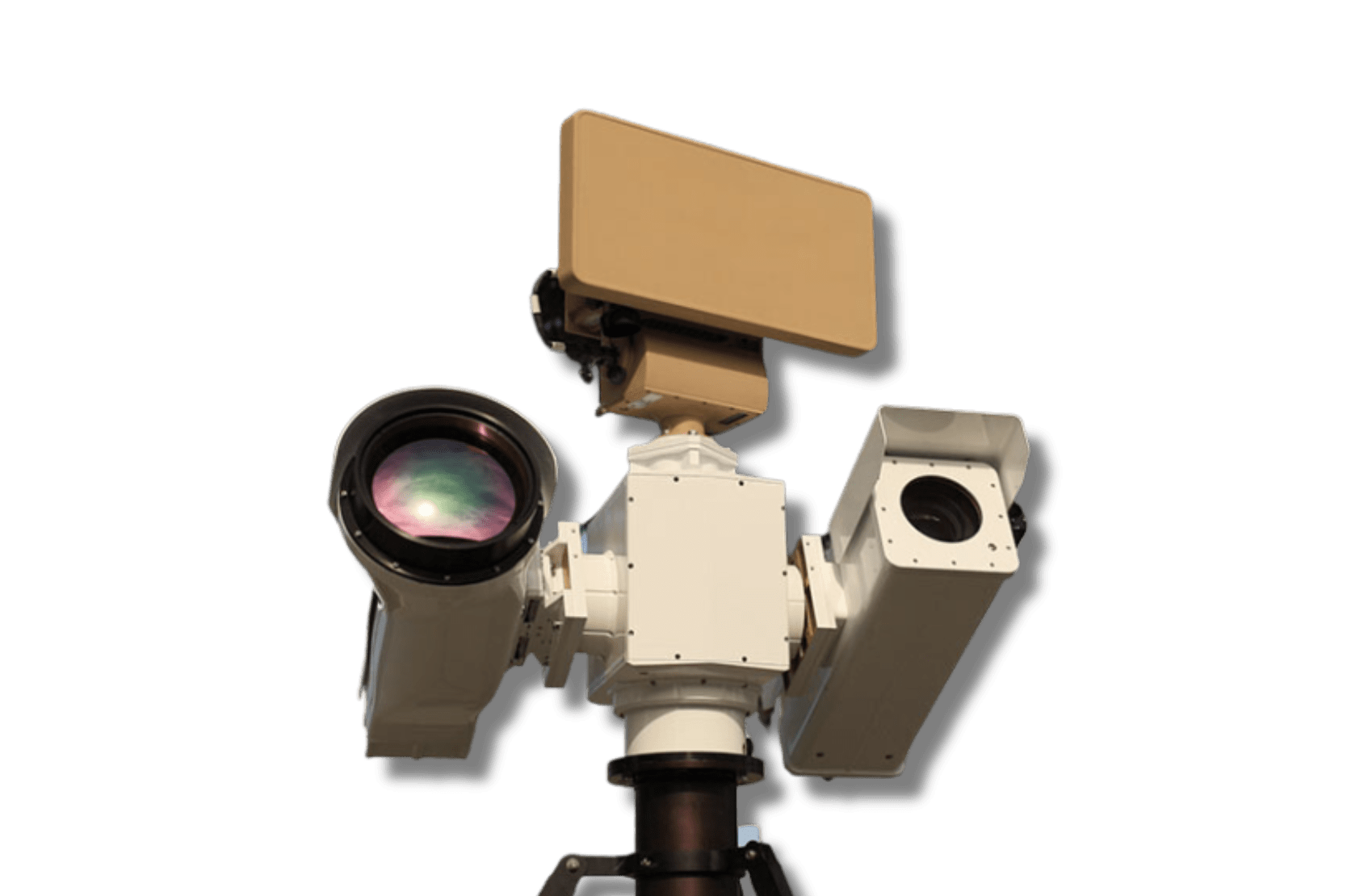 The X99 Radar
The X99 radar is the latest upgrade to our proven heritage
of ground surveillance radar (GSR) technology and expertise. The X99 precision radar can be coupled with the M9 long-range PTZ thermal imaging EOIR multi-sensor FLIR camera system. By incorporating the X99 Radar into the M9, you gain true tracking and slew-to-cue.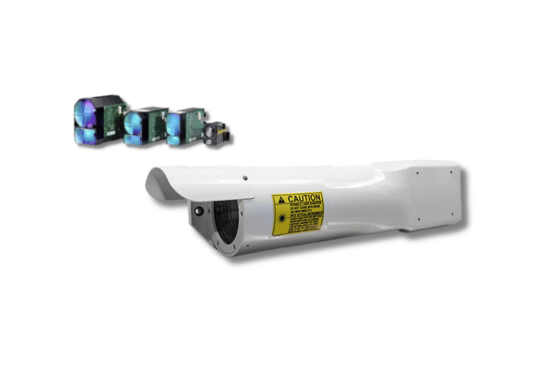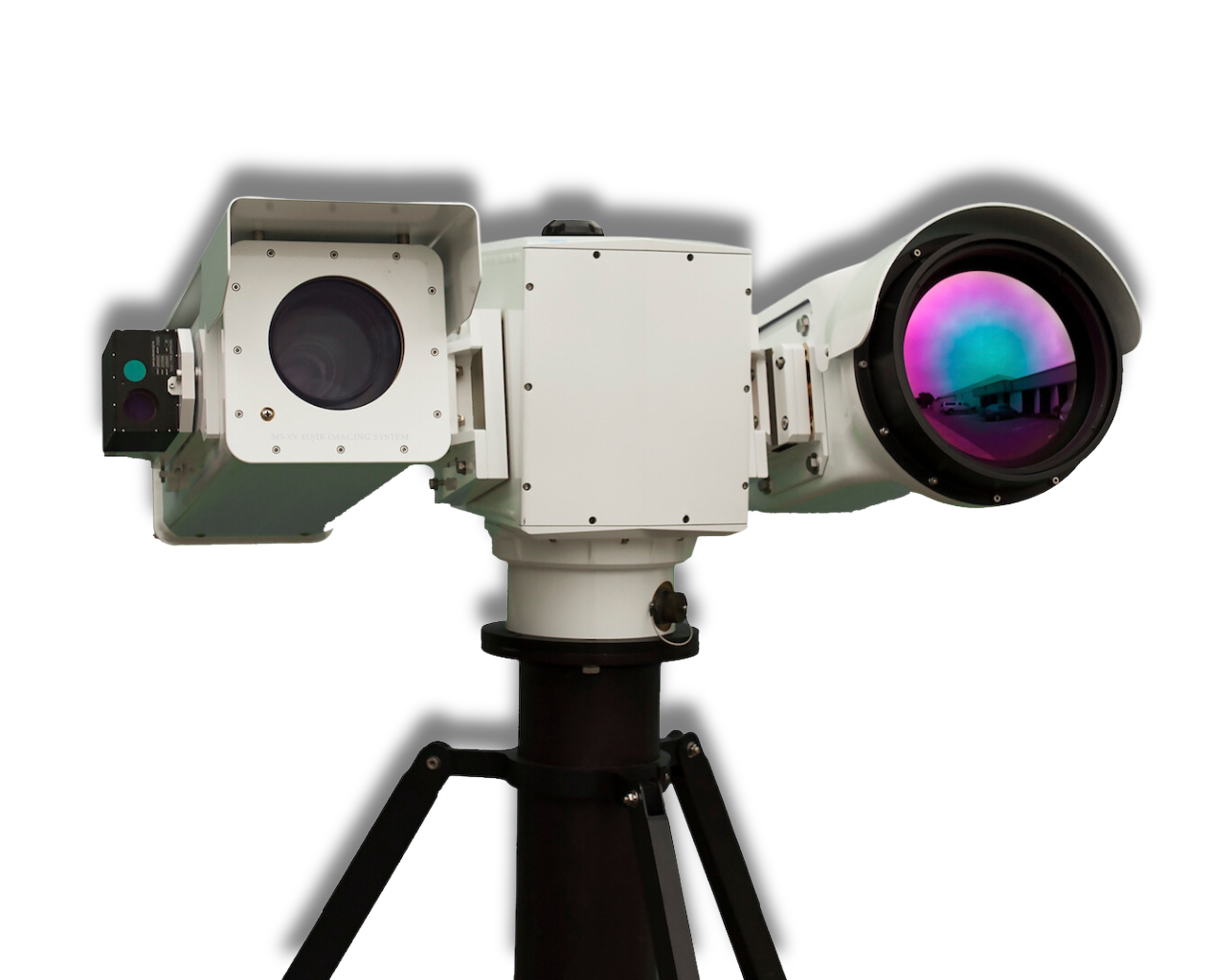 Industry Leading Durability Tests
All weather system works flawlessly in Snow, humidity, tropical, desert and extreme harsh environments with 100% Duty Cycle. Our submerge test is the only one of its kind in the industry. We fully submerge our completed units and turn them on as part of our rigorous testing.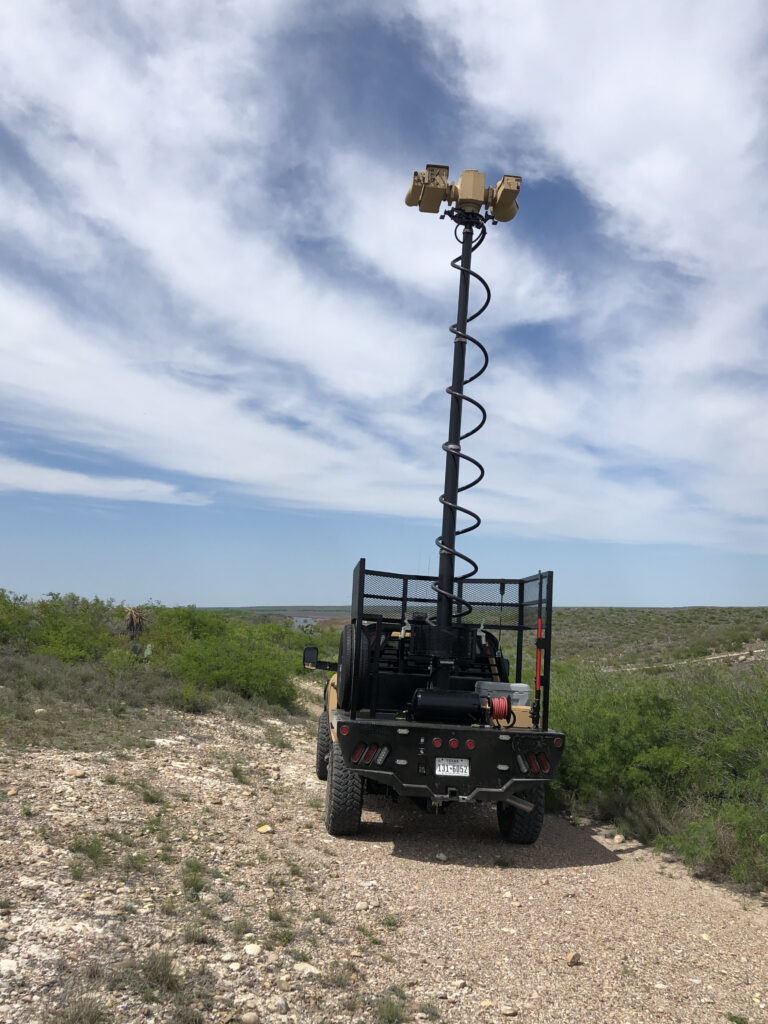 Can Be Configured With Optional Xenith Folding Tower
The Xenith ultra-durable folding tower is ideal for mobile surveillance activities, especially in border security scenarios. It's designed to support an ultra-rugged PTZ military-grade long-range surveillance camera.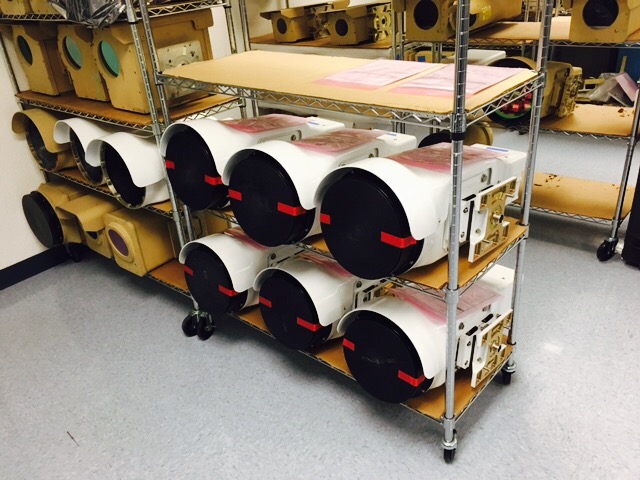 Inside Our Advanced Electro-Optical Production Facility
We provide comprehensive training, both in-house and on-site, coupled with industry-leading customer support. Our state-of-the-art manufacturing facility specializes in electro-optical military systems, adhering to the strictest reliability and compliance testing standards. We invite you to visit our ISO9001-certified factory, where you can witness the meticulous production of EOIR military PTZ camera systems and observe your system in the making.
Advanced Features, Configurations, Performance Specs, and Application Flexibility
Comprehensive Overview of the M9 Ultra Long Range Cooled Thermal Imaging System
Variety of user C2 control interfaces, VMS, IP, Fiber
SD VGA 640 x 512 or HD High Definition SXGA 1280 x 1024 resolution sensor selections
Continuous zoom with effective 100mm-1500mm F4 coated, hardened Germanium lenses
Latest Cooled MWIR long-range thermal imaging cameras
Long-range 20km 1550nm LRF laser range finder
Advanced qualitative and quantitative long-range OGI PTZ thermal imaging Optical Gas Flir Imaging applications.
OGI optical gas imaging PTZ thermal FLIR camera systems
Continuous VOC gas leak detection & quantification system
Suite of computer vision models for various monitoring and detection purposes
Long-range HD thermal cameras
Long-range SWIR camera
Long-range thermal imaging
4-Axis/4Layer Stabilization E/M
0.0006° Position Accuracy
Ultra-rugged best in the industry IP68+ protection
MilSpec IP68, The most rugged and reliable long-range system available anywhere.
Cabling and Power
Gyro Stabilization / Ranger Finder (optional)
Long-Range Illuminator (optional)
Operators Manual
Tilt (Elevation) 180° Travel
Extraordinary long life, ultra-reliable cryo Coolers with 40000+ lifespan
Gyro-stabilization
Direct Drive Closed Loop Servo
Smooth Pan (Azimuth) 360° Continuous Rotation
The ultimate in EO and IR DRI range, performance, and reliability
Available with ultra-sensitive long-range OGI qualitative and quantitative PTZ optical gas imaging FLIR thermal channel
Ultra-long-range 40mm – 2600mm stabilized HD VIS/NIR BSI CMOS Low Light Level visible television camera
Anti-Fog, haze, clutter capabilities with turbulence and distortion mitigation
Highly customizable with a host of HD high-end sensors, lasers, optics to meet mission requirements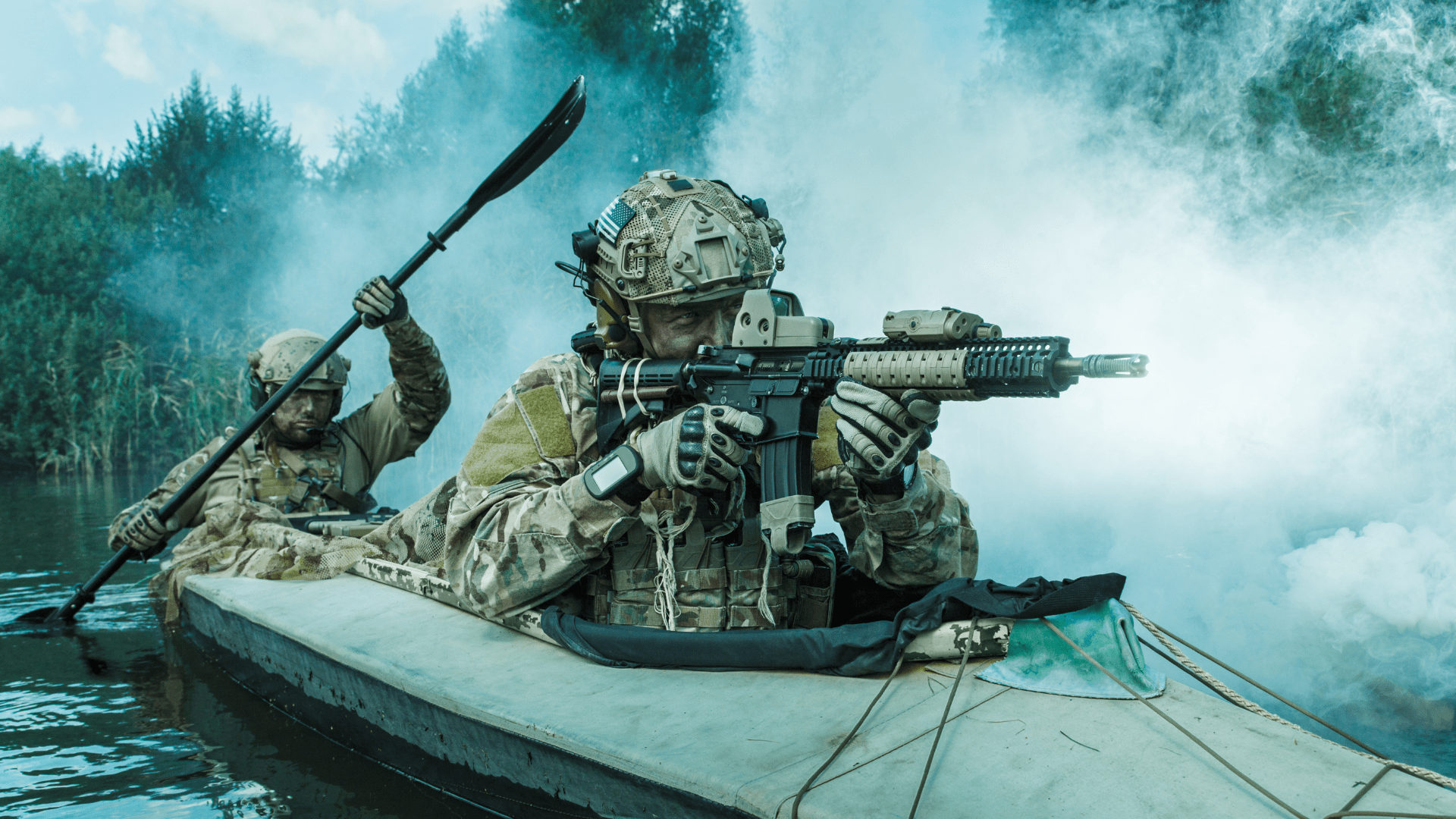 United Kingdom Armed Forces, USA Military and Canadian Armed Forces
Military and Defense
Advanced Thermal Imaging Solutions
For surveillance, target tracking and detection, range finding, and stealth operations using the HD low-light VIS+NIR 500x zoom BSI CMOS EO camera and LED dazzler.
The M9, developed by SPI Corp, offers a range of advanced features and capabilities specifically designed to be a military long range surveillance camera. Here's an expansion on its applications in the military sector: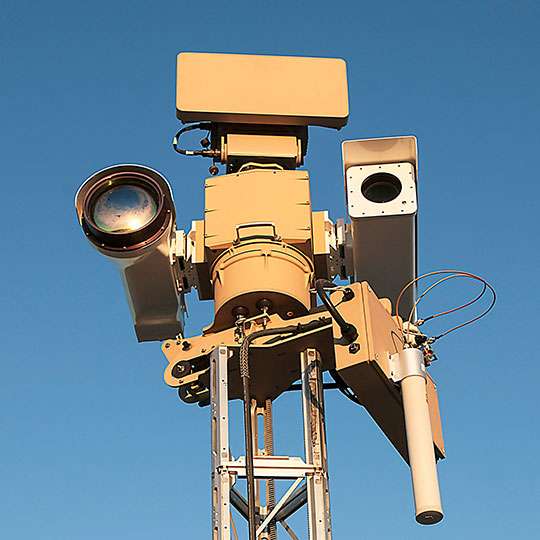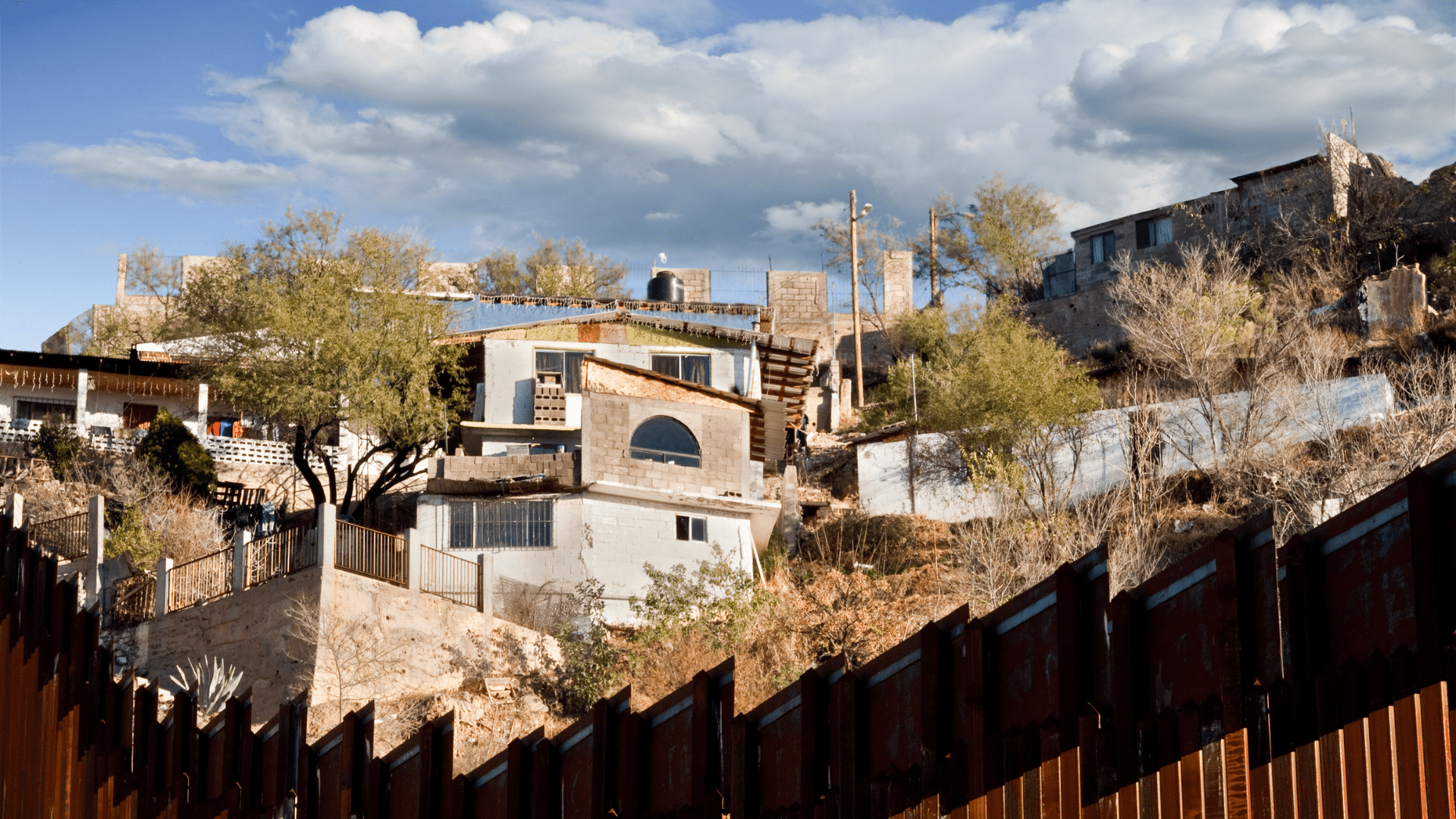 US-Mexico, South Korea-North Korea, and US-Canada Border Security
Border Security
Range of Solutions For Border Security Around The World
Utilized for long-range surveillance and intelligent alerts, ensuring secure borders, especially during night time or in low visibility conditions.
The M9, designed with the following specifications, offers a range of capabilities specifically tailored for border security applications: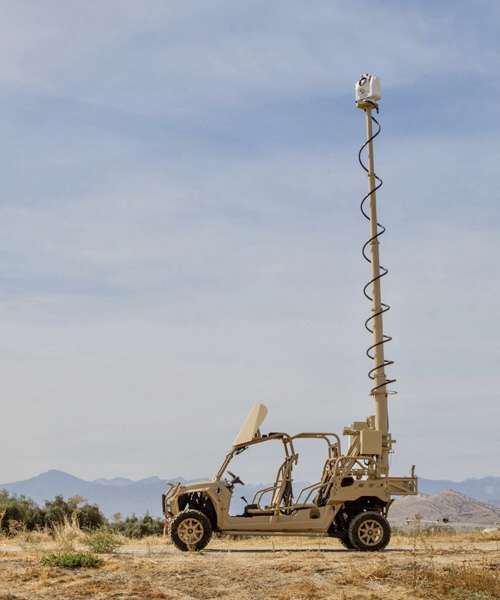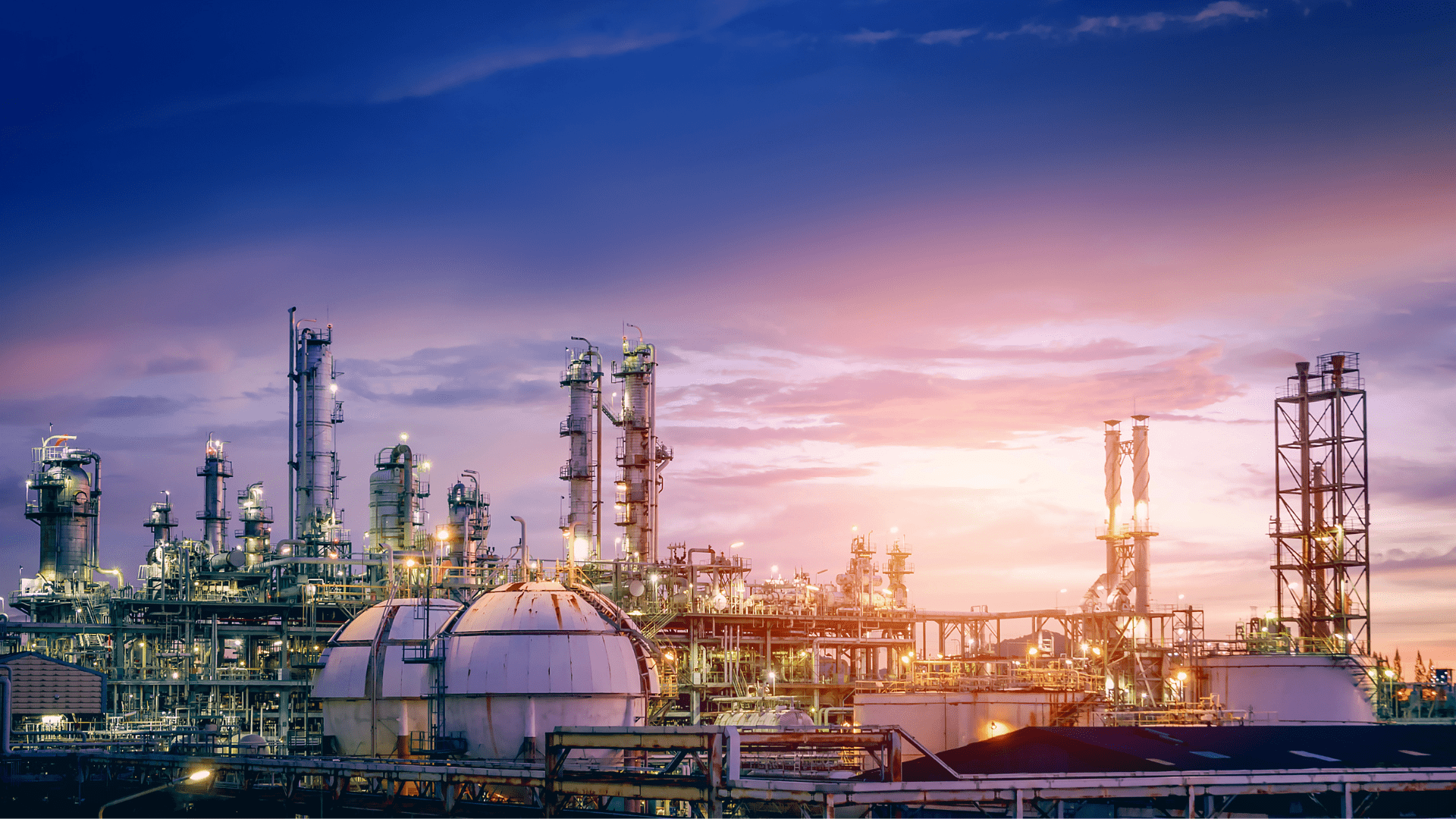 Industrial Thermal Solutions
Thermal Cameras With OGI
Can detect leaks or irregularities in pipelines using the OGI Optical Gas Imaging option. Optional OGI optical gas imaging and features a loudspeaker and microphone.

The M9's advanced camera features, specifically the Advanced Qualitative and Quantitative OGI PTZ Thermal Imaging Optical Gas FLIR Imaging technology, play a crucial role in industrial monitoring, particularly in the oil and gas sector.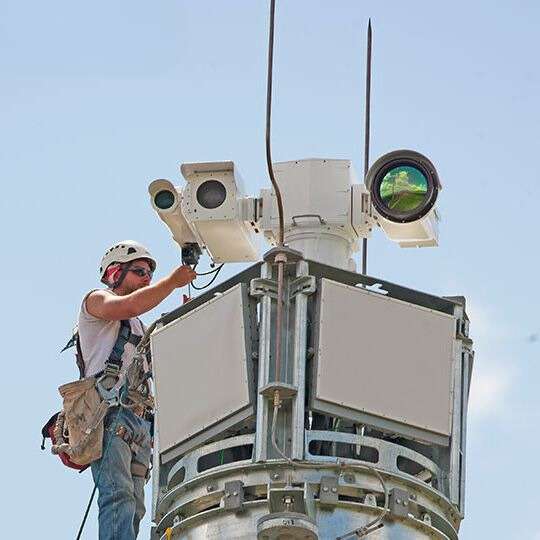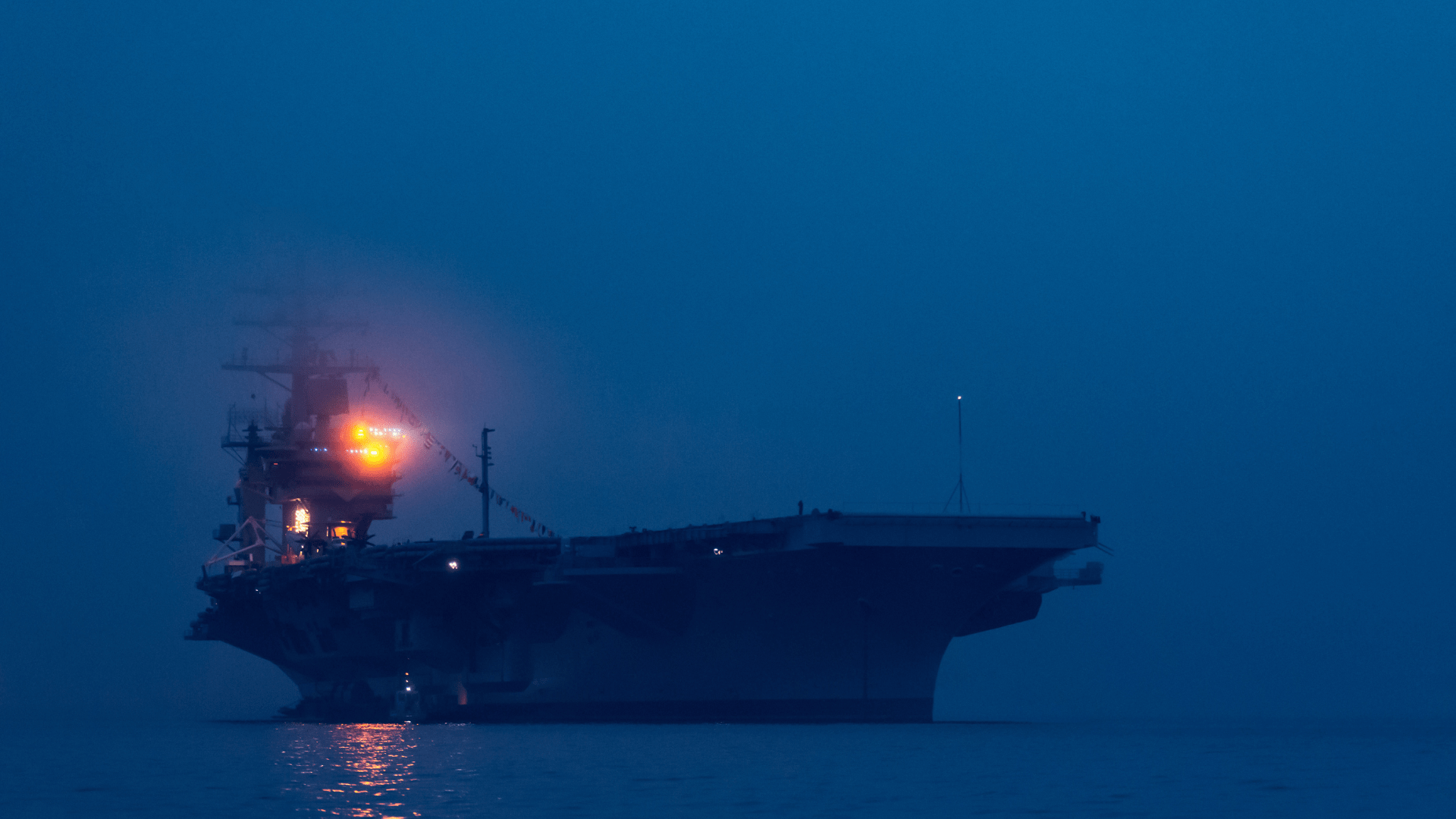 Thermal Maritime Solutions
With advanced salt-spray protection
The M9's advanced camera features, durability, long-range capabilities, and optional add-ons make it well-suited for maritime thermal solutions. It enables long-range surveillance, detection of heat signatures, precise distance measurements, and enhanced visibility through SWIR imaging.
The M9's integrated wipers further ensure clear vision in challenging maritime conditions. These features, coupled with the optional X99 Radar add-on, contribute to enhanced maritime security, situational awareness, and response capabilities in a wide range of maritime operations.
The M9 thermal ptz camera offers advanced features and capabilities specifically designed for maritime applications. With its rugged design, long-range capabilities, and optional add-ons, the M9 is an ideal choice for various maritime thermal solutions. Key features and benefits include: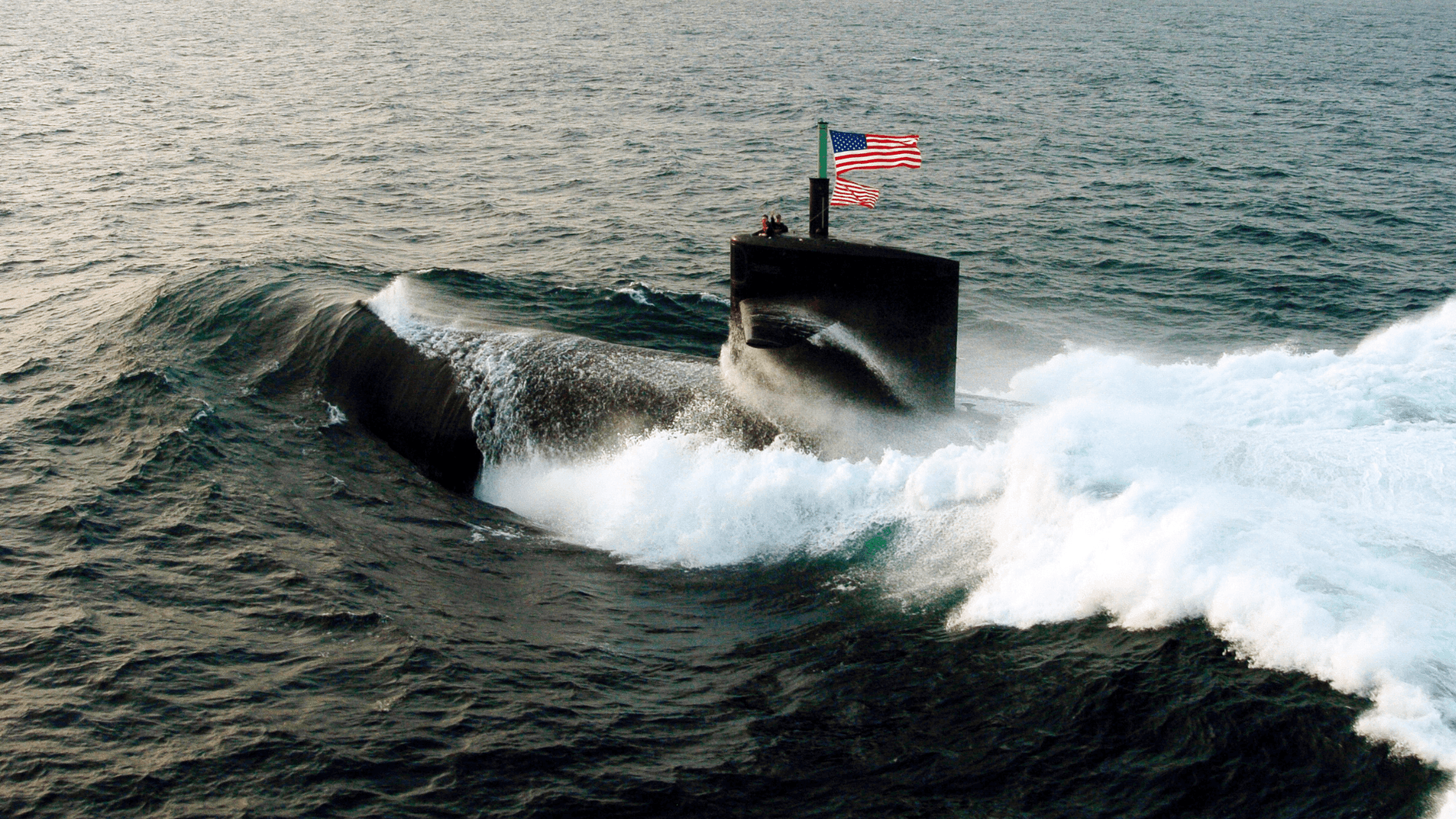 Image and Video Gallery
---