SPI Night Vision Goggles: Technologies and Features
---
SPI battle tested night vision goggles are designed for use with helmets and head mounts. These goggles will handle harsh weather conditions, including jungle, marine and combat situations.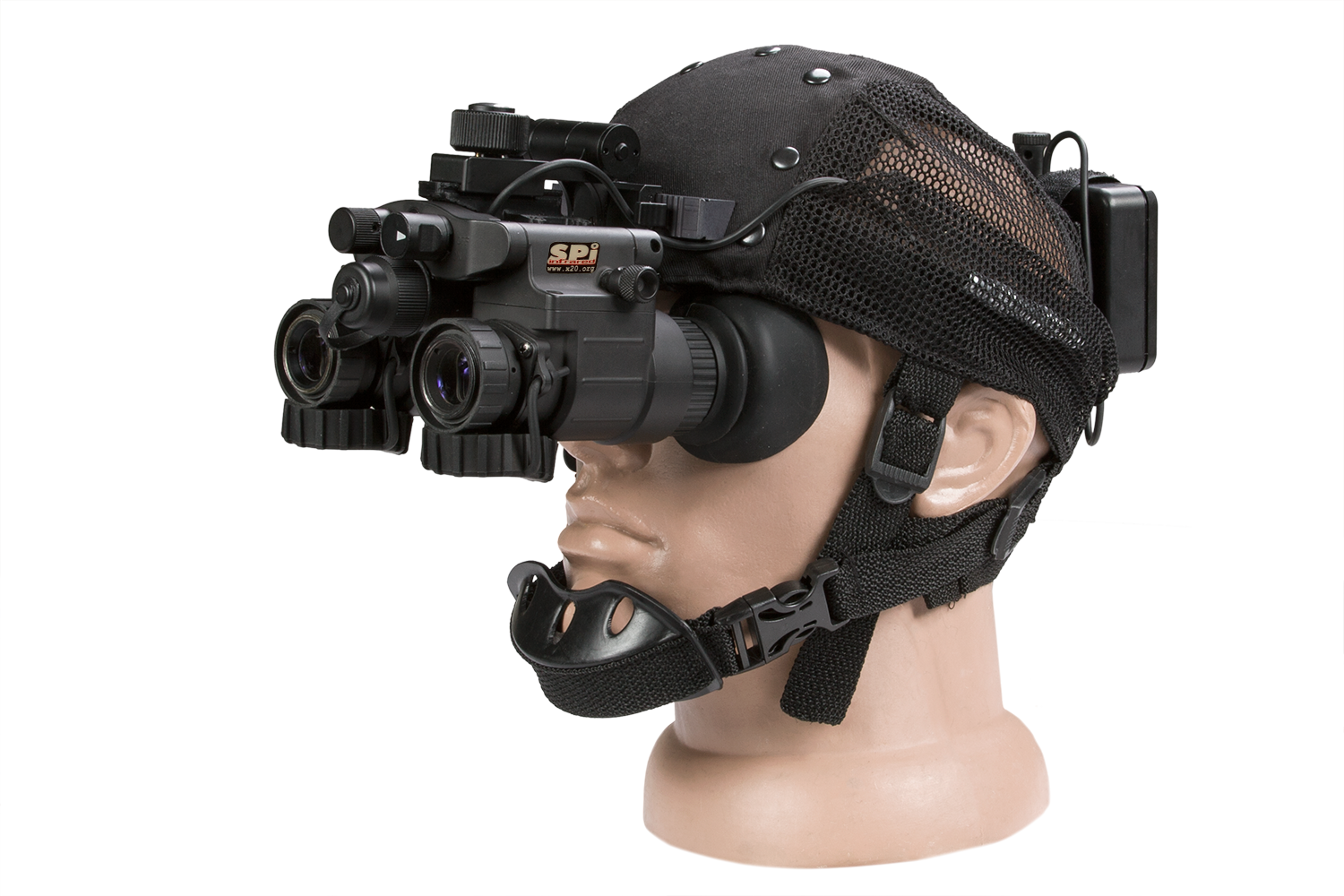 Our night vision goggles are fitted with image intensifier tubes of the highest quality, from Gen 1 to Gen 3, and can support single or double viewfinder. We understand the value of agility, user-friendliness and control.
SPI night vision goggles:
Are lightweight, durable, and will stand the test of time due to the aircraft aluminum alloy housing
Can be mounted on head, helmet, or tripod for hands-free operation
Our night vision goggles are equipped with the latest technologies that can use natural ambient light sources or artificial infrared illumination to create clear and crisp viewing. Looking through the night vision allows the user to visualize an amplified recreation of the normally unseen visuals to the human eye.
About Our Night Vision Goggles
---
We offer a battle tested, Military-grade, night vision goggles, with features like:
IP 65 protection
Casing made from high-grade aluminum alloy
Hands- free head or helmet-mountable
Fast mounting transitions by using dual mini rails
High-light cut-off
Integrated IR Illuminator
Rugged and compact design
Simple, ergonomic, operater controls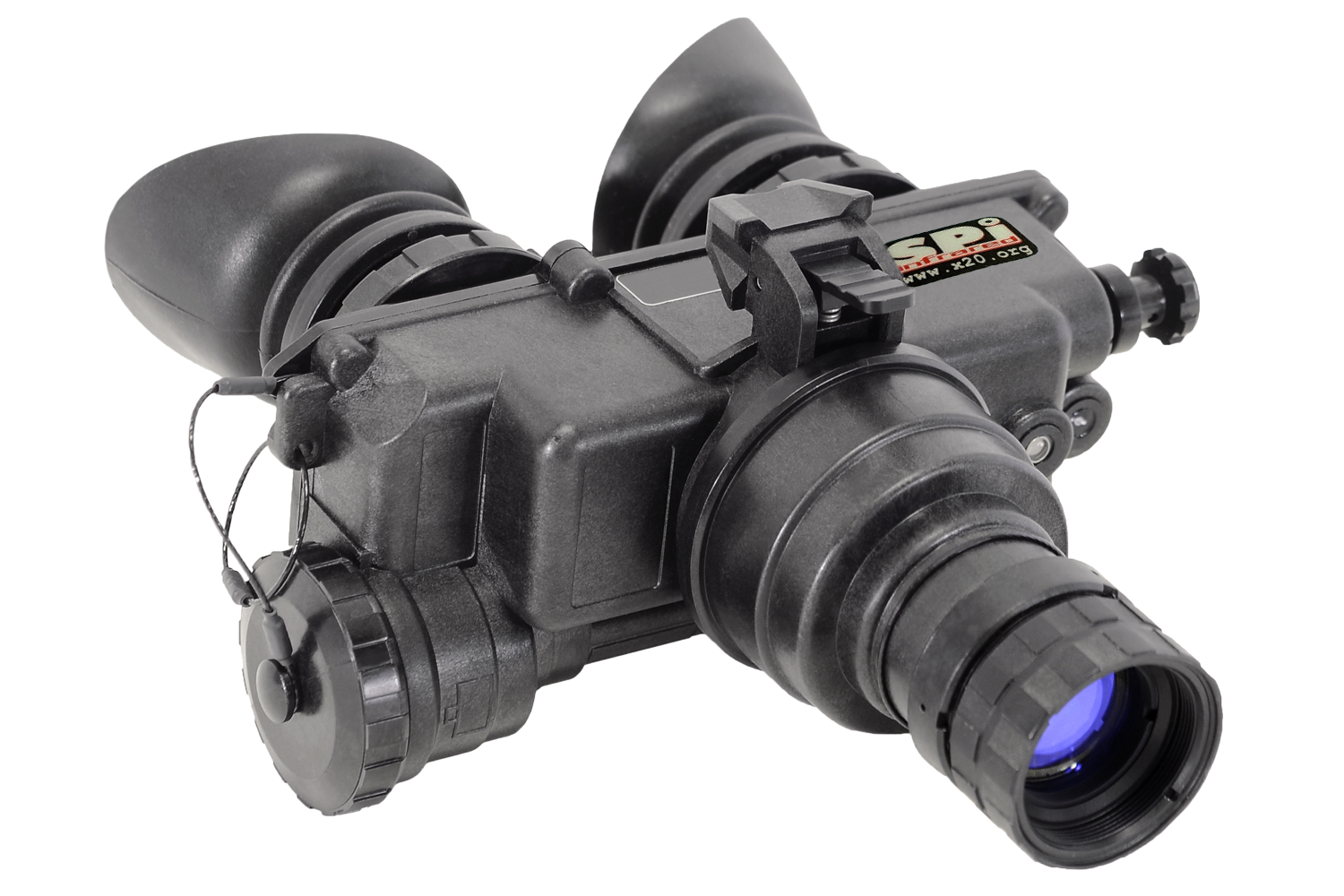 Our product line for law enforcement, military and nighttime optical enthusiasts is always evolving. SPI 's diverse selection of night vision goggles are durable and agile enough to meet the highest demands of our expert customers.
Our Long Range Night Vision Goggles
---
Generation 2 Night Vision Goggles
Included With Night Vision Goggles:
What's in the box?
Generation 3 Night Vision Goggles
---
Pros of Gen 2 & Gen 3 Night Vision
---
Gen 2 Pros
---
Improved Image Quality: Gen 2 night vision goggles provide significantly better image quality compared to Gen 1 goggles. They offer clearer and sharper images with enhanced resolution and detail.
Extended Range: Gen 2 night vision technology allows for longer detection and recognition ranges, enabling users to see objects and targets at greater distances in low-light conditions.
Better Low-Light Performance: These goggles perform well in extremely low-light situations, providing users with enhanced visibility in moonless or starlit nights.
Reduced Image Distortion: Gen 2 goggles exhibit less image distortion and geometric distortions, resulting in a more accurate representation of the scene and making it easier for users to interpret their surroundings.
Longer Lifespan: Gen 2 night vision tubes have an extended lifespan compared to Gen 1 tubes, making them more reliable and cost-effective in the long run.
Suitable for Various Applications: They are versatile and widely used across different fields, including military operations, law enforcement, security, wildlife observation, and recreational activities like hunting and camping.
Lightweight and Portable: Gen 2 night vision goggles are typically lighter and more compact than Gen 3 or thermal imaging devices, offering better mobility and ease of use in the field.
Lower Cost: While not as expensive as Gen 3 or thermal goggles, Gen 2 night vision devices still provide a good balance between performance and cost, making them more affordable for many users.
Availability: Gen 2 night vision technology has been around for a while, leading to a larger availability of devices and spare parts in the market.
Minimal Ambient Light Requirements: Gen 2 goggles require less ambient light to produce usable images, making them suitable for use in urban environments or areas with moderate artificial lighting.
Reliable Technology: Gen 2 night vision technology has been refined over time and has proven to be a reliable choice for various night vision applications.
Good Balance Between Performance and Price: Gen 2 goggles offer a reasonable compromise between the performance enhancements of Gen 3 and the more affordable cost of Gen 1, making them an attractive option for many users.
Gen 3 Pros
---
Superior Image Quality: Gen 3 night vision goggles provide the highest level of image quality among night vision technologies. They offer exceptional clarity, sharpness, and resolution, allowing users to discern details and objects more accurately.
Extended Range and Performance: Gen 3 goggles provide even longer detection, recognition, and identification ranges compared to Gen 2, making them ideal for operations and activities requiring precise long-range vision in low-light or dark conditions.
Enhanced Low-Light Sensitivity: Gen 3 night vision technology is designed to excel in extremely low-light environments, providing clear images even in moonless or overcast nights.
Reduced Image Distortion and Brightness Gain: Gen 3 goggles exhibit minimal image distortion and halo effects around bright light sources, delivering a more natural and comfortable viewing experience.
Extended Lifespan and Reliability: Gen 3 night vision tubes have a significantly longer lifespan than both Gen 1 and Gen 2 tubes, making them highly durable and reliable even with heavy use.
Wide Operating Temperature Range: Gen 3 goggles can function effectively in extreme temperature conditions, ensuring reliable performance in various climates and environments.
Reduced Flicker and Noise: Gen 3 night vision technology significantly reduces the amount of image flicker and visual noise, resulting in a smoother and more stable viewing experience.
High Compatibility with IR Illuminators: Gen 3 goggles can work efficiently with infrared illuminators, further enhancing visibility in pitch-dark environments without compromising image quality.
Better Recognition of Camouflaged Objects: Gen 3 technology excels in detecting and recognizing camouflaged objects or individuals that may be challenging to spot with lower-generation night vision devices.
Suitable for Tactical and Professional Use: Gen 3 night vision goggles are commonly used by military personnel, law enforcement, and other professionals who require top-tier performance and reliability in critical situations.
Longer Battery Life: Many Gen 3 night vision goggles come with energy-efficient features that extend battery life, ensuring extended operational time during missions or activities.
Future-Proof Investment: As the latest standard in night vision technology at the time of this list, investing in Gen 3 goggles ensures users have access to the most advanced capabilities available.
Cons of Gen 2 & Gen 3 Night Vision
---
Gen 2 Cons
---
Image Clarity: The picture quality of Gen 2 NVGs, while an improvement on Gen 1, can leave much to be desired. The granular nature of the image, especially at longer distances, might be noticeable to frequent users.
Light Intricacies: Gen 2 units can be a little too sensitive to ambient light. High levels of urban or environmental illumination might significantly impair their effectiveness, leaving your field of view awash in a green glow.
Hours of Operation: The operational life of Gen 2 NVGs is limited, usually around 5,000 hours. To the frequent night prowler, this could mean the lifespan of the device ends sooner than desired.
Gen 3 Cons
---
Geographic Limitations: Export restrictions can hamper the availability of Gen 3 goggles in many regions, making it a luxury not everyone can access.
Gravity's Toll: The heavier weight of Gen 3 NVGs due to the additional components can lead to user fatigue, particularly during prolonged use. This is a subtle but real issue for those embarking on extended night-time adventures.
Power Drain: Given the technological sophistication of Gen 3 NVGs, they can consume power at a faster rate. In off-grid or survival situations, maintaining a power supply for these goggles could become a pressing concern.
TLC Necessity: Gen 3 devices require an ongoing commitment to upkeep. Regular cleaning and careful storage are essential to keep these goggles at peak performance. Failure to maintain them could lead to a gradual drop in output quality, affecting the user's night-time viewing experience.
How much are the best night vision goggles/ How much do night vision goggles cost?
Night Vision Goggles range from $1,000 (some lower end models and used products) to over $10,000. To learn more about pricing and bulk discounts contact us.
What is the best budget night vision?
As SPI Corp, we pride ourselves on offering high-quality night vision technology at accessible prices.
We understand that budget constraints can often be a significant factor when choosing night vision equipment.
That's why we strive to provide a range of products that offer excellent performance without breaking the bank. Our offerings are priced competitively, providing some of the most affordable night vision solutions on the market.
We offer Commercial Off The Shelf (COTS) prices, ensuring that our customers can access top-tier night vision technology without the premium price tag.
Whether you're a hobbyist, a professional, or somewhere in between, we believe we have a budget-friendly solution that will meet your needs.
Are night vision goggles for hunting legal in California?
In the state of California, the laws regarding the use of night vision devices, including both tubeless and tubed, for hunting are quite strict.
It is illegal to use, or even have in your possession, any kind of infrared equipment while hunting. This includes IR illuminators that are often used in conjunction with night vision devices.
The law also extends to any device that allows users to locate and identify targets in the dark, such as night vision or thermal imaging devices. This means that both tubeless and tubed night vision goggles would fall under this regulation.
The restrictions apply regardless of whether the night vision equipment uses circuitry that amplifies ambient light or not.
This means that both traditional (tubed) night vision devices and newer digital (tubeless) devices are included in the ban.
These laws are designed to ensure fair chase principles in hunting and to prevent giving hunters an unfair advantage over wildlife.
However, laws can change and interpretations can vary, so it's always a good idea to check with local law enforcement or a legal expert if you have specific questions or concerns about the legality of using night vision devices for hunting in California.
How do night vision goggles work?
Night vision goggles work by using a scientific process called image intensification to amplify the available light in the environment, allowing the user to see in conditions that would otherwise be too dark for the human eye.
Here's a quick step-by-step explanation of the process:
Light Collection: The goggles first collect ambient light from the environment, including lower-frequency light that's invisible to the human eye, such as infrared light.
Conversion to Electrons: This light enters the goggles through an objective lens and hits a component called a photocathode. The photocathode then converts the photons from the light into electrons.
Amplification: The electrons are then amplified by a component called a microchannel plate (MCP). The MCP is a disc with millions of short, parallel channels that apply a high voltage to the electrons, causing them to multiply as they pass through.
Conversion Back to Photons: The amplified electrons then hit a phosphor screen, which converts them back into photons (light particles).
Viewing the Image: This light forms an image that is green in color. The green phosphor is used because the human eye is most sensitive to green light and it's easier to look at for long periods. The image is then viewed through the eyepiece lens of the goggles.
---
For Custom Solutions and Pricing
---
---
Check Out Our Thermal Products
---
---