Our Long Range Thermal Products
---
Welcome to our comprehensive guide on our long-range thermal imaging equipment, showcasing an extensive range of products from Pan-Tilt-Zoom (PTZ) cameras, Gimbals, Scopes, Clip-ons, Monoculars, and Binoculars. Each category has been designed with different use-cases and applications in mind, expanding the possibilities for thermal imaging in various fields.
Robustness and Functionality of SPI's Thermal Imaging FLIR PTZ Cameras
SPI's long-range thermal imaging FLIR PTZ cameras are built with robustness and functionality in mind. These heavy-duty, all-weather PTZ positioners/gimbals rotate continuously 360 degrees and pan/tilt up and down. This allows users to guide and control the motors, positioning the long-range FLIR cameras and associated sensors towards areas of interest.
Gyro-Stabilization and Extended Detection Range
These security cameras can be gyro-stabilized, significantly reducing shake and jitter from the imagery, especially when zoomed into maximum telephoto ranges. They have the capability to detect threats up to 50 kilometers away, making them an invaluable asset for long-range surveillance.
Complimentary Daytime EO CMOS Low Light Camera
All SPI long-range thermal imaging cameras come with a complimentary long-range zoom daytime EO CMOS low light camera, making these systems a true complete day and night imaging solution.
Customizability with Additional Sensors
Additional sensors can be integrated with our long-range FLIR PTZ thermal cameras. These include Short Wave Infrared (SWIR) cameras, Laser rangefinders (LRF), tracking systems, radar with slew-to-cue capabilities, GPS, Compass, Laser dazzlers, microphones, spotlights, loudspeakers, laser infrared illuminators, laser infrared pointers, and high-speed cameras. SPI's customization capability allows for virtually any add-on option to be incorporated into our gimbal platforms.
Image Quality and Resolution
Our long-range thermal imaging payloads offer users crisp, clear image quality with outstanding detail, clarity, and fidelity. The long-range infrared cameras are available in both cooled MWIR and LWIR uncooled types. They come in HD (High Definition) and SD VGA (Standard definition) formats, typically with 640×480 or 640×512 pixel resolution.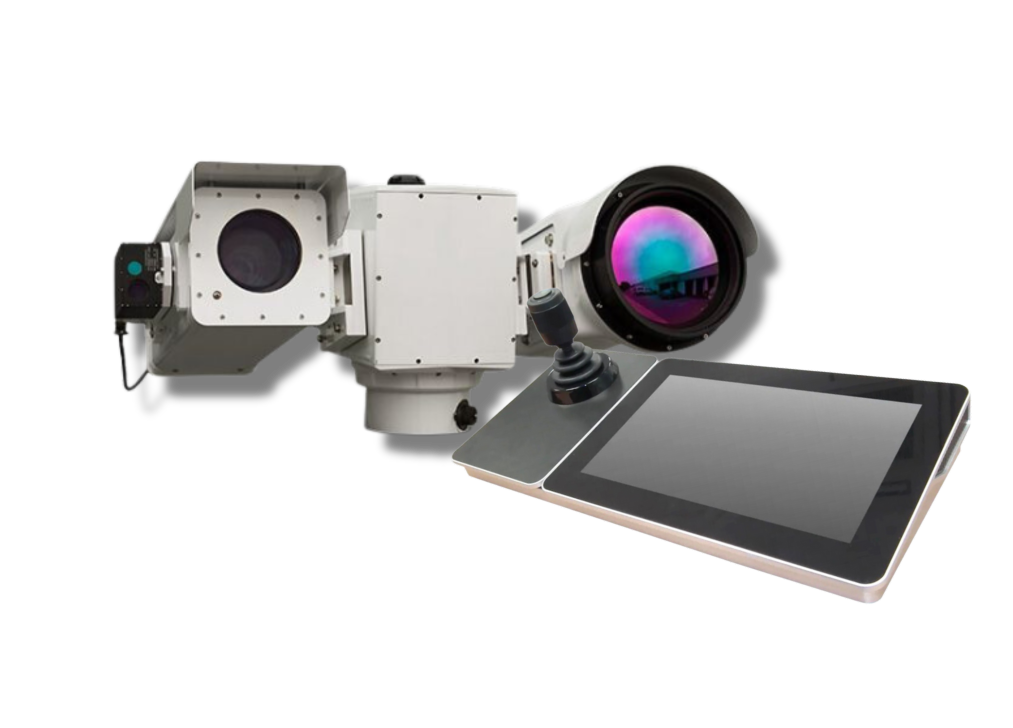 Long Range Thermal PTZ Camera Systems
About Long Range Thermal Imaging
---
Introduction to Long Range Thermal PTZ Cameras
Long Range Thermal Pan-Tilt-Zoom (PTZ) cameras are a critical piece of technology, enabling visibility across significant distances and in adverse conditions. These cameras employ a combination of thermal imaging and PTZ capabilities to monitor and manage large areas efficiently.
The Evolution of Thermal PTZ Cameras
The technology behind long-range thermal PTZ cameras has developed significantly over time. The inception of thermal imaging dates back to the 1920s, but it was not until the 1950s and 1960s that the technology started to mature, driven by military demands during the Cold War. PTZ functionality was integrated later, enhancing the versatility and effectiveness of thermal imaging systems.
Understanding the Technology
Thermal imaging technology works by detecting the heat emitted by objects and translating it into a visible image. This technology can capture images even in complete darkness, through smoke, fog, and light foliage, making it especially useful in surveillance and security contexts. PTZ functionality, on the other hand, allows for remote control of the camera's pan (left and right movement), tilt (up and down movement), and zoom, offering a versatile and comprehensive viewing field.
Uses in Different Industries
These cameras have been widely used across various industries. In the military sector, long range thermal PTZ cameras are crucial for surveillance and reconnaissance missions. They provide the capability to monitor enemy movements in real-time, regardless of weather or time of day. Border security agencies such as the US Customs and Border Patrol use these cameras to detect illegal border crossings, even in low visibility conditions.
SPI: A Pioneer in Thermal PTZ Cameras
---
Why SPI Corp for thermal?
SPI Corp (Sierra Pacific innovations Corp) is at the forefront of the design and manufacture of long range thermal PTZ cameras. The SPI team consists of experts from various fields including electrical and mechanical engineering, optical design and analysis, IR thermography, 3D solid modeling (CAD/CAM), and precision machining and assembly.
SPI's Prestigious User Base
SPI's Long range thermal imaging FLIR PTZ security camera systems have a distinguished user base. Not only are we used by US Customs and Border Patrol, US Marine Corps, US Air Force, and the US Navy, but also by the US Department of Homeland Security and NASA. Globally, we are used by the Panama Canal, the South Korean Navy, Saudi Aramco Oil, and research entities such as MIT Lincoln Labs. The extensive usage of SPI's systems across these high-stakes environments testifies to their reliability and effectiveness.
How far does thermal imaging work?
Our thermal imaging long range PTZ Cameras have extremely long range. Our highest grade thermal cameras have a detection range of up to 50+ Kilometers. This means if you were standing at the Hollywood sign in Los Angeles, you could see people going about their everyday activities all the way in Long Beach.
What is the maximum range of FLIR?
Certain high-performance FLIR systems integrated into military aircraft or long-range surveillance platforms have been reported to have detection ranges exceeding 100 kilometers in optimal conditions.
How do long range thermal cameras work?
Long-range thermal cameras utilize advanced optics to focus incoming infrared radiation, sensitive detectors to convert it into electrical signals, and signal processing techniques to enhance the image. This allows for the detection of faint thermal signatures at considerable distances, making them ideal for applications like surveillance, security, and search-and-rescue operations.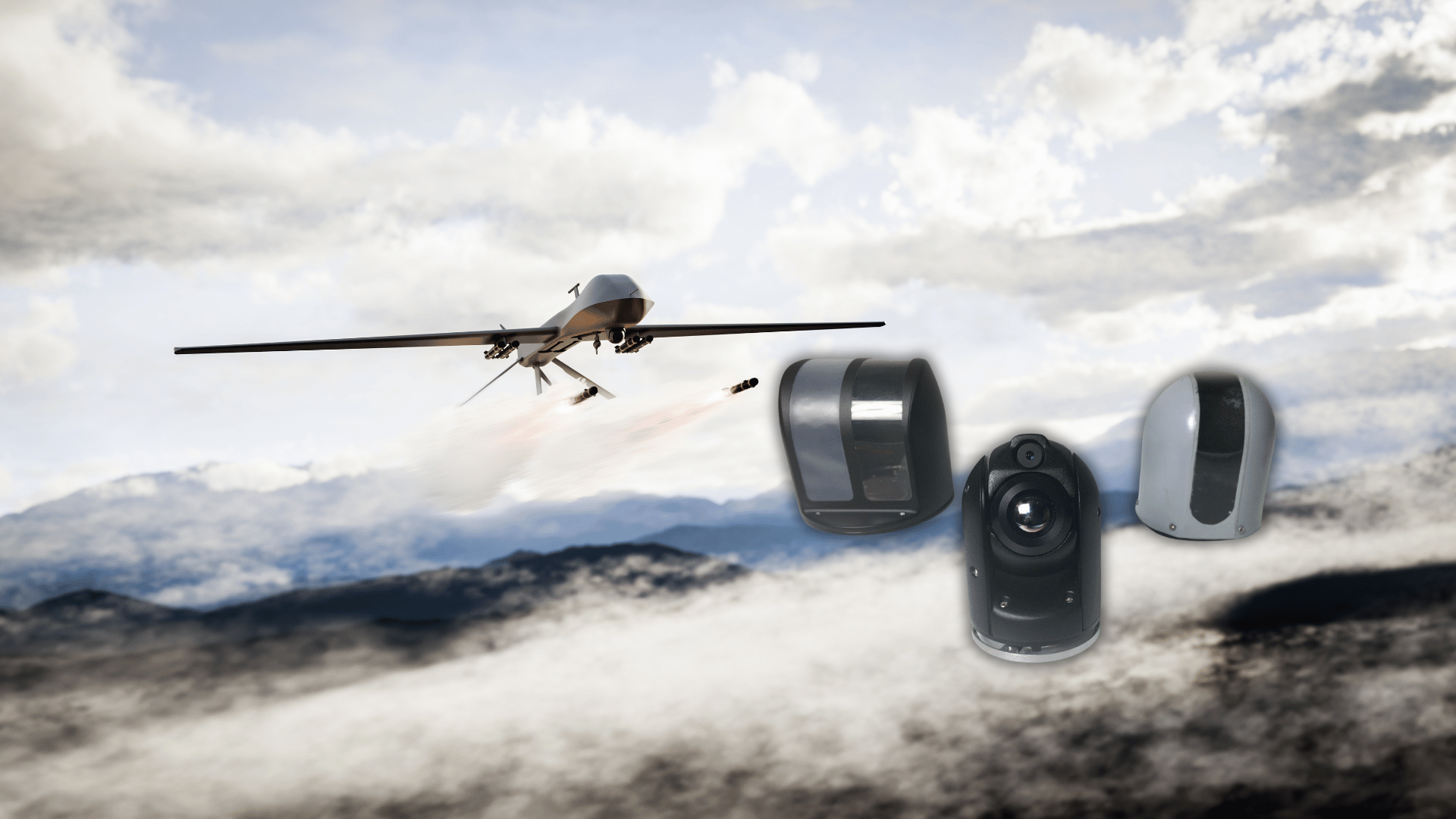 Long Range 360 Degree Thermal Drone Gimbal Systems